Fit on piano with PIANOFIT®: World First Music Stand for Grand Pianos brings Music Sheets closer to the Keys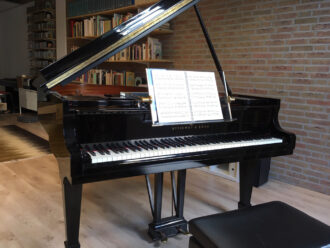 Compatible with all Brands and Sizes
The music stand of a grand piano is positioned much higher than that of an upright. For many musicians, the distance between the note text and the keys seems too great. This makes both the pianistic realization of the musical text and the turning of pages more difficult and can lead to incorrect posture and eye problems. Not only amateurs, but also professionals see a need for correction here. 
The patented PIANOFIT® PREMIUM solves these problems in an elegant way also for placing notebooks and pads. The desk can be used on the closed grand piano as well as with the lid open. Height and angle can be positioned to individual needs.
The new, improved mechanism ensures convenient handling by allowing the music stand to be adjusted in height and angle of inclination in a single grip. Once positioned, it is simultaneously locked in place and can be loaded with heavier music volumes.
Users at the professional level include pianists, pedagogues and piano accompanists, as well as educational institutions, orchestras and musical theaters. On a private level, the purchase is worthwhile especially for children and families whose grand piano is used by several generations.
The dimensions of the music stand are 62x40x11cm when folded, it weighs 6kg.
Acrylic/Brass/Stainless Steel: € 1498,- incl. VAT plus freight. Order per Mail…